UK and Eire board of trustees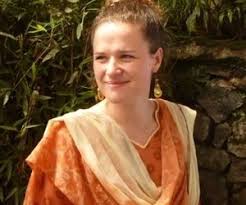 Caoimhe Ni Eochagain
Tea Leaf Trust Chair
Skills: Development
Strategy
In 2013, Caoimhe came out to Sri Lanka and worked at Tea Leaf Vision, Maskeliya for a year to support with strategic planning, curriculum development and monitoring and evaluation. Caoimhe, strongly believes that young people are often key drivers of community wellbeing and development due their creativity, energy and openness to change, which she brought to Tea Leaf Vision in abundance! An instant hit with our staff and students, her skill set, energy and general loveliness meant that we were desperate to keep her. When she accepted a place on our board, we were thrilled! Caoimhe currently works with a national youth mental health organisation in Eire as a Youth and Community Engagement Worker.
Caoimhe says:
"Young people growing up on the tea estates of Sri Lanka have so many structural and systemic challenges to navigate – discrimination and marginalisation due to their caste, gender-based violence, substance misuse, a lack of employment opportunities and an education system that often fails to provide them with equitable access to the labour market. During my time with Tea Leaf Vision, I was struck by the drive, commitment and passion of the students to provide themselves and their families with better prospects. I think the power of the Tea Leaf Vision approach is that it is run for young people, by young people from the tea estates. They are creating transformative change not only in their own communities, but across the country through comprehensive education programmes that provide opportunities for personal, professional and community development."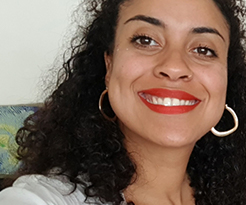 Laurenne Ajayi
Trustee
Skills: Development
Advocacy
In 2014, Laurenne, and her partner Miles, came out to volunteer with Tea Leaf Vision, working with our HR manager to overhaul our HR systems (desperately needed!). Laurenne, remained in contact with us after coming back from her trip, enthusing us with her passion for all things Tea Leaf Trust. We knew we had to have her and in 2016, we approached Laurenne, about becoming a member of the board… she said yes! Laurenne, was previously Head of Operations for an international organisation delivering education and teacher training projects in Rwanda. She currently works as a Project Manager at a social research consultancy, providing research, evaluations and market intelligence in the fields of education and skills, the third sector and international development.

Laurenne says:
"The young people of the tea estates don't need a hand out - they need the tools to escape from cycles of poverty. Free, skills-based education is one such tool, as is a system that focuses on wellbeing as well as attainment, in which wide-ranging opportunities are available to all young people, regardless of background or identity, and where support systems are in place to help young people access these opportunities."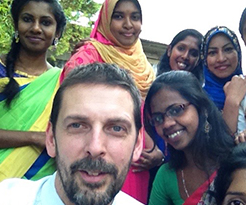 Tim Pare
Co-founder and trustee
Skills: Development
Strategy
In 2007, a chance overnight stay on tea plantation led to the creation of Tea Leaf Trust (a UK registered charity since 2008). After a year of furious fundraising, Tim moved to Sri Lanka from 2009–2012 and again from 2017–2019 to establish education programmes in tea estate areas. Tim, works with and mentors the Central Team [link to central team dropdown] as well as Global Unites, an NGO that equips young people to transform society through programmes promoting hope, non-violence and reconciliation in post conflict countries.
Tim says:
"After attending tea estate focus groups in June 2009 revealing around 85% alcoholism amongst the male tea-picking community and 83% of women suffering domestic violence, I understood that Tea Leaf Trust needed to be more than just schools, it had to be an organisation that enabled young people to become resilient, powerful, confident change makers in their communities. It had to be built by young people for young people and most importantly, it could not mirror the colonial structure, it had to be robust and resilient and run BY locals, FOR locals. that is exactly what we have, a raft of projects to transform communities from the grassroots, through the young people who live amongst the issues."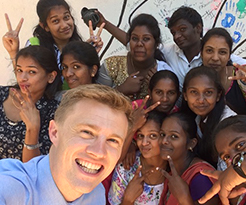 James Houston
Skills: Education Fundraising
James and his wife Beth packed up their place in Bristol and came out on a six-month volunteer placement in September 2018. James, a primary school teacher and Beth, a surgical nurse worked across the centre in Maskeliya, helping to update various curriculums as well as hands on teaching and teacher-training. James and Beth completely immersed themselves not only in school life, but local community life where they were hugely popular. People around Maskeliya are forever asking when Mr James and Ms Beth are coming back! When James said that he was interested in doing more for Tea Leaf Trust, asking him to be a trustee was a no brainer! James currently works as a as a Year 6 teacher, in the South West of England.

James says:
"Due to the isolation, both geographically and culturally, of these communities, young people desperately need to be empowered. They need to realise (and believe) that they have talents, skills and experiences that are valuable. By seeing themselves as change agents they in turn can change their families, communities and their nation and inspire future generations. When you spend time at the schools, listening to the students and their stories; observing the inspirational teaching and seeing how the students take 'Tea-Leaf-Vision' back to their communities you will be filled with hope for this beautiful community."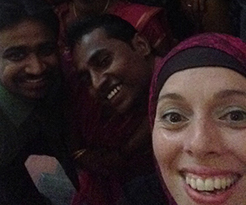 Yasmene Shah
Cofounder and trustee
Skills: Communication
Very similar story to Tim, so we won't repeat it! Yas, currently works as a medical writer, putting together online education programmes about wide-ranging diseases and treatments.
Yas says:
"Look, the thing is that I love a cup and tea is a staple of British life. BUT my cup of tea is a source of pain and misery for a whole community of men, women and children living 6000 miles away. Colonialism from a bygone age is still thriving in plantation areas, little has changed. And when you see all of that, first hand, it's…well…outrageous. It underpins the inequality of these communities in Sri Lanka. 'Tea life' is responsible for poor physical and mental health and an overall reduction in the quality of life, particularly for the women of these communities. Tea Leaf Trust, is committed to addressing all of these issues, but not through 'white saviour syndrome', but by training and empowering home grown Sri Lankan teams to create programmes that benefits their own communities."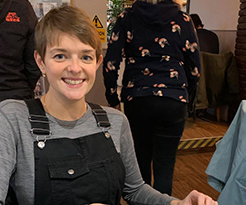 Stéphanie
Finace Governance
Stéphanie met Tim and Laurenne in 2018 as she looking to put her finance skills from her day job to meaningful use (and dusting off her masters in international development). Needing someone with a nounce for numbers, we persuaded her to come visit to see if she'd be interested in taking on a trustee role with a focus on finance. After a whirlwind tour of Maskeliya and Nuwara Eliya at the start of 2019, she was hooked (hurray for us), fired up by our work providing employability skills to a set of incredible young people. Stéphanie's current job involves advising public companies undertaking transactions and those looking to list on the London stock exchange (with a dash of excel thrown in!).
Stéphanie says:
"Tea Leaf Trust projects are run by local young people, for local young people. Much more than a provider of English classes, tea leaf trust provides programmes which seek to equip and empower young people with the skills and resilience to become change agents in their communities. These young people are pivotal to addressing complex structural challenges and driving long term sustainable change both in the tea estate communities and beyond."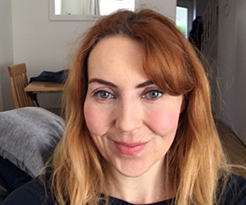 Emma
Skills: Fundraising Communication
Emma has an extensive background in arts fundraising, having worked as a Senior Manager at Royal Academy of Dramatic Arts and on the Paralympic games 2012 with the British Paraorchestra who performed at the Closing Ceremony. She is currently works part-time for MAITS, (multi-agency international training and support) a global NGO which work in 20 countries, so that she can spend more time on her passion which is open water swimming. Emma met Tim at a charity event. She was so inspired by the mission of Tea Leaf Trust that she felt compelled to learn more and to get involved.
Emma says:
"What really impressed me about Tea Leaf Trust is not just the access to high quality education programmes, which each and every young person needs to lift themselves out of poverty. It's about equipping every student with so much more – hope and emotional resilience alongside skills and confidence, so that they can build a future for themselves and their families and take control of their lives."